DISCLAIMER-PLEASE NOTE THAT PICTURES , ARTICLES AND MATERIAL INCLUDED IN THIS BLOG HAVE BEEN COMPILED FROM VARIOUS SOURCES AND ALL CREDIT IS GIVEN TO THE ORIGINATOR.ANY COPY-RIGHTED ITEM WILL BE REMOVED IMMEDIATELY ON REQUEST.
'
'I shall return''---Macarthur
Does anyone remember the Ventures and Babbitt the drummer who played "Walk Don't Run"?Do any of you remember a USAF Four Star General George Babbitt from Tacoma, WA? General Babbitt was a drummer at one time for the Ventures.
When Calcutta was American
In India your job is doubly difficult
In India your job is doubly difficult. To drive the Japanese armies out of Burma where they now threaten invasion of Assam, India's easternmost province, is a military operation of sizeable proportions. To keep them on the run, out of Indo-China and China itself, is still more formidable.
Then too, India is a complex country, difficult for people like ourselves to understand. It is a country whose people are going through a far-reaching political upheaval. They, as we did over 160 years ago, seek to gain political independence.
If you are to complete your mission in the measure expected of you as an American, discretion and tact will be required of you at all times in your dealings with the Indian people and the soldiers beside whom you will fight. Most of all you will need to know something about India, her people and the problems they face. That is the reason for this guide, prepared for your continuing study. With its help and by keeping your eyes and ears open, you'll find out enough about the country, complex and contradictory as it is, to get along.
(source: "A Pocket Guide to India" Special Service Division, Army Service Forces, United States Army. War and Navy Departments Washington D.C [early 1940s]: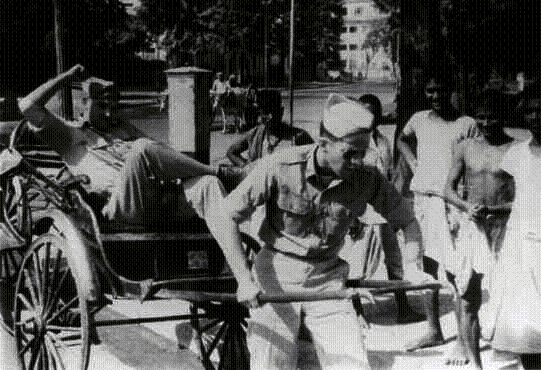 apparently they had no drivers!
Our bungalow was a few hundred yards from the 'Grand Truck Road' which went all the way from Calcutta to Rangoon. I remember sitting with my sister on the steps of the bungalow, watching convoy after convoy of trucks going along the road. They were taking troops, artillery, food etc. back to Burma. We used to watch these trucks in amazement as apparently they had no drivers!
Eventually it was explained to us that they were not as clever as we thought; they were American troops and of course, were driven from the 'wrong' side. We were quite shattered by this truth!
M Brown ,schoolboy
,
Asansol
, 1944
"Stand by Me"

was written by Ben E. King, Jerry Leiber and Mike Stoller. Released in 1961, it reached #4 in the US charts and #27 in the UK. In 1986 it was re-released due to its use as the theme song for the movie of the same. The re-release reached #9 in the US and #1 in the UK. "Stand by Me" was ranked number 121 on Rolling Stone Magazine's list of the 500 Greatest Songs of All Time. In 1999, BMI named it as the fourth most-performed song of the 20th century, with about 7 million performances.This particular performance is a rendition by a street singer---superb!!

!




And the moon is the only light we'll see.

No I won't be afraid,newnew.jpg

Just as long as you stand, stand by me




So darlin' darlin' stand by me,

Oh stand, stand by me, stand by me.




"You are not defeated when you are fallen...
You are defeated when you do not get up"
>
Indian War Birds
Wreckage found after 50 years
A JCB escavator in process digging up the aircraft.



| | |
| --- | --- |
| | Airforce personnel from Ambala Air Force Station escavate the Spitfire airframe from the sandy bed of Markenday River. Photo: PTI |
Ambala, Haryana : When some workers went a field adjoining the Markandeya River to dig the soil for planting watermelon saplings, who could have thought that they would stumble on what could be the 'Warbird Discovery of the Year'!
A high amount of detail and attention was devoted to getting the the forward fuselage right - Perhaps at a future date - they get to fit a complete Merlin and a prop on this aircraft.
Then we were taken out to the place where the Spitfire was displayed. At first glance - onehas to appreciate the amount of work that had gone into this aircraft. Yes it may have its flaws - like the cockpit canopy or the trailing edges of the wings which seem to 'droop' (Where the ailerons have to be there). but overall the effect of the aircraft is very positive.
The Undercarraige legs and covers are original - The Wheel bays are covered with clear plastic sheets to prevent dust and grime accumulating in the wings. Note the Radiator scoops. Can you recognise where the wheel hubs and tyres came from?
The aircraft was now displayed on a platform (that was still getting constructed). The remaining components of the Spitfire are supposed to be moved to the Base museum once a suitable place is identified to set up the museum.
Stolen Warbirds Of India;


After many years of speculation, Rare Aero Ltd of UK had addressed the elephant in the room by releasing the following statement on various Aviation Forums. Noted historian Andy Saunders was contacted by Rare Aero Ltd to release it to the public.
The Statement acknowledges for the first time that the aircraft is in UK in the Channel Islands and also makes several sensational statements. These include claims that it was approached by people offering it services that would ensure it is covered up in India ... for a fee.
The following is the complete statement - verbatim:
"We have seen the various allegations on this aircraft since it was acquired by Rare Aero Ltd, and would make the following statement.
Hitherto, there has been much debate regarding this airframe and this has been exclusively based upon inaccurate reporting in the Indian press and subsequent speculation via the internet. Rare Aero have not entered this debate and have no intention of doing so. However, Rare Aero cannot continue to stand by whilst debate and misleading statements continue to be made via the internet. It is hoped that the following statement will go some way towards setting the record straight:
We do not condone smuggling or the illegal removal of historical artefacts from foreign countries and have never knowingly been involved in such activity.
In the particular case of Bf 109e Werke Nr. 4309, we have possession of the original contract between the Indian entrepreneur and the college who owned the airframe and we are in no doubt that the transaction was correctly and legally carried out on the basis that it was their property to dispose of. It was exported in a routine and, as far as we can ascertain, an open manner. We did not acquire the airframe directly from the college, but from a dealer in military vehicles. Incidentally, the engine number, found on the main bearing caps of 10625, agrees with the Air Intelligence report 3/139 thus confirming the identification.
The pilot of the big American C-87 transport lined up his machine at the end of the heat-hazed runway at Agra near the Jumma River in India.
At the far end of the narrow concrete ribbon lay a patch of trees, and beyond them, on the far side of the river, he could see the tops of the graceful minarets which marked the position of one of India's most beautiful monuments, the Taj Mahal.
Slowly he increased the engine revs, released the brakes and settled back in his seat as the huge machine began to rumble along the runway.
He needed to reach 120 m.p.h. before he could ease back the control column and lift the plane clear of the ground. Half-way down the runway – to his horror – his dials told him he had reached only 60 m.p.h. He wondered whether to slam on the brakes or hope for a rapid increase in speed.
Eighty miles an hour, and the trees loomed dangerously nearer . . .
Past the point of no return, he glanced anxiously at the airspeed indicator. It still showed only 100 m.p.h. At 110 m.p.h. he eased back the control column and the great mass of metal lunged precariously into the air, bumped, and then rose up, skimming the trees.
The shimmering dome of the Taj Mahal now lay dead ahead. "Full flap!" yelled the pilot. The plane lost speed, then ballooned upwards, barely missing the spike of a minaret. Workmen on scaffolding repairing the monument cowered back in terror, but the last-second manoeuvre by the pilot had saved them – and India's priceless memorial.
The pilot was American Ernest K. Gann who was one of many U.S. airmen engaged on flying vital supplies to Burma during World War II.
(
This edited article about World War Two originally appeared in Look and Learn issue number 249 published on 22 October 1966.
)
Hot as Hell, Found in India
Its been over 60 year wait for the family members, including Gary Zaetz, of the ill fated World War Two plane B-24 J nicknamed "Hot As hell." On January 25, 1944, B-24 J "Hot As Hell" with a compliment of 8 crew members took off from Kunming, China for a routine flight to Chabua, India. The plane never reached its destination. The crews were declared dead on November 20, 1944. On 7 December 2006, a private American investigator, Mr. Clayton discovered the crash site in East Siang district, with the assistance of Abor villagers.
B-24J 2342-73308 Identifcation Panel
Gary Zaetz whose uncle, 1st Lt. Irwin G. Zaetz of the U.S. Army Air Force was in the crash, is a 53-year old computer programmer with 2 grown sons and 2 pre-teen daughters. His wife Gina, a part-time airline reservation agent, has been his partner in locating relatives and pushing for a recovery mission.
There are still four living siblings of the crew of the "Hot as Hell." 83-year old Larry Zaetz (Gary Zaetz's father), who's the sole-surviving brother of the navigator, 1st Lt. Irwin Zaetz. Verna Chambers is 90-year old sister of the co-pilot, Flight Officer Sheldon Chambers. Virginia Swanson, the 92-year old sister of the pilot, Captain William Swanson, and Fred Oxford, the 90-year old brother of the bombardier, 1st. Lt. Robert Eugene Oxford. Relatives of the crew have been located all over the United States, including Arizona, Georgia, North Carolina, South Carolina, Indiana, Pennsylvania, Florida, Massachusetts, and Vermont. Relatives have even been found as far away as South Africa and Mozambique.
The crew of the plane as documented in the official Missing Air Crew Report submitted by Captain James E. Maher to the Headquarters, United States Army Air Forces, War Department, Washington, on January 26, 1944 are:
Pilot: 1st Lt. William A. Swanson, 0-728935
Co-Pilot: F/O Sheldon L. Chambers, T-291
Navigator: 1st Lt. Irwin Zaetz, 0-791661
Bombardier: 1st Lt. Robert E. Oxford, 0-663308
Engineer: S/Sgt. Charles D. Ginn, 15084114
Radio Op.: S/Sgt. Harry B. Queen, 11021096
Gunner: Sgt. James A. Hinson, 14188472
Gunner: Sgt. Alfred H. Gerrans, Jr., 34315848
Allied Forces started to fly over "The Hump" in April 1942 to resupply the Flying Tigers and the Chiang Kai-shek led forces in China against the Japanese. The Japanese had blocked the Burma Road and the Allied planes were forced to fly over the eastern part of the Himalayan Ranges, nicknamed "The Hump," to reach China from India. The Hump became critical to the China-Burma-India Theater. Flying over the Hump was not an easy task. As per US Air Force records "Heavily loaded transports began their runs to China after lifting off from hot, muggy airfields in India's eastern jungles, then struggled upward for altitude to clear the towering Himalayas. A direct route to Kunming, China, took four hours, at an average altitude of about sixteen thou-sand feet, and placed aircraft over areas within range of Japanese fighters. The ATC crews characteristically flew a dogleg to the north to escape enemy airplanes, even though the path stretched fuel reserves to the limit and required an operational altitude of twenty thousand feet to clear most of the Himalayan peaks. Many fliers wound up threading their way through available mountain passes at sixteen thousand feet, with snow-covered ridges and pinnacles rising on either side of them. In addition to the changeable weather high over the Himalayas, pilots flew across virtually impenetrable jungles on both sides of the menacing mountain ranges.
Over the Indian jungles, in particular, fliers had to contend with monsoon rainstorms for six months of every year. Landing strips and runways became muddy quagmires; fliers and ground personnel existed in a swampy world of sodden bunks, clothes, and tents."
U.S. Department of Defense release in 2004 mentions that more than 500 aircraft and 1,200 crewmembers are still missing in World War IIs China-Burma-India Theater of operations. It is believed that approximately 416 men remain missing in India from flying resupply missions over The Hump.
Locating the B24-J 42-73308
Clayton Kuhles who has a website MIARecoveries.org , has taken on the project of searching for as many of these Missing In Action (MIA) aircraft as he can find. So far he has located six planes which went missing over "The Hump." The planes include B24-J 42-73308, C87 #3791, C46 #7294, C47 #224360, C47 #413 and C87 41-23696. Clayton when not digging for these aircrafts runs a successful real estate business back in US. Aiding in his recoveries is Oken Tayeng, who runs Abor Country Travels and Expeditions in the Indian eastern most state of Arunachal Pradesh. Says Oaken "the region is littered with these planes. The locals have seen these planes crash, but, it we do not have the expertise for identification of the planes. Clayton has taken up the initiative of identifying these planes."
Oken in extreme left, Clayton in middle and the porters
Identifying the planes is a real challenge. Says Clayton " most of the time you can find bare skeletal parts since the villagers have already taken the aluminum for selling it as scrap."
Clayton explains "My guide Oken Tayeng has relatives living in the Abor village of Damroh. He had heard through his relatives in Damroh about the existence of a WW II aircraft wreckage in the nearby hills. He relayed this info to me a couple years ago. It wasn't until I reached the village of Damroh and interviewed the local hunters that I learned the precise location of the wreck and the time required to reach it. It often takes hours of talking and questioning to learn all the details. After lengthy discussions in Damroh, then we set off for the wrecksite. It took a 2-3 days of difficult jungle trekking to reach this site.
Clayton Kuhles With Abor Lady in Damroh, NE India
I learn of these wreck sites by first determining the likely crash areas from studying the old WW II flight maps, then I ask my guide service to put the word out that we're looking for wreckages in this particular area, then slowly info starts to trickle in. Inevitably, local hunters will pass the word to my
people
about wrecks which they know about. If the wreckage can be easily reached from a nearby village, then most of the aluminum will probably have been hauled away years ago by salvagers. If the wreckage is remote and difficult to reach, then it will usually be intact. An aircraft ID and recovery of the crewmember remains may still be possible even if most of the aluminum wreckage has been hauled away by salvagers. The ID of the aircraft is important so the crewmembers can be identified. The ultimate recovery of crewmember remains is the goal. In the meantime, the families of the long-missing airmen will at least know of the discovery of the wreckage, and this in itself helps bring some closure to these families."
In addition the military historian Matt Poole of Wheaton, Maryland confirmed the identity of the aircraft wreckage as the "Hot as Hell".
Oken with his Abor relatives
Human Remains
The Joint POW/MIA Accounting Command Archeological Site Report Form, as filled out by Clayton Kuhles on December 7, 2006, indicates that bones were seen at the site (by local villagers) and that those bones were still at the site.
In a June 2, 2007 letter to Larry Zaetz, Clayton Kuhles stated: " I'm certain the remains of your brother 1st Lt Irwin Zaetz can be found at the crashsite. My hunter guide reported seeing numerous human bones at the site when he first visited the location three years ago during the summer months. When I was there, there was already a light covering of snow."
Indian Army in WW2
"As one man they rose with their war cry of "Bole Sohe Nihal , Sat Sri Akal!" and leapt to meet their assailants. It was bayonet to bayonet, and the German paratroopers were outmatched. They broke and ran. The Sikh troops of the Indian Army swept forward to seize the enemy positions, capturing a number of prisoners, including a German officer with two bayonet wounds."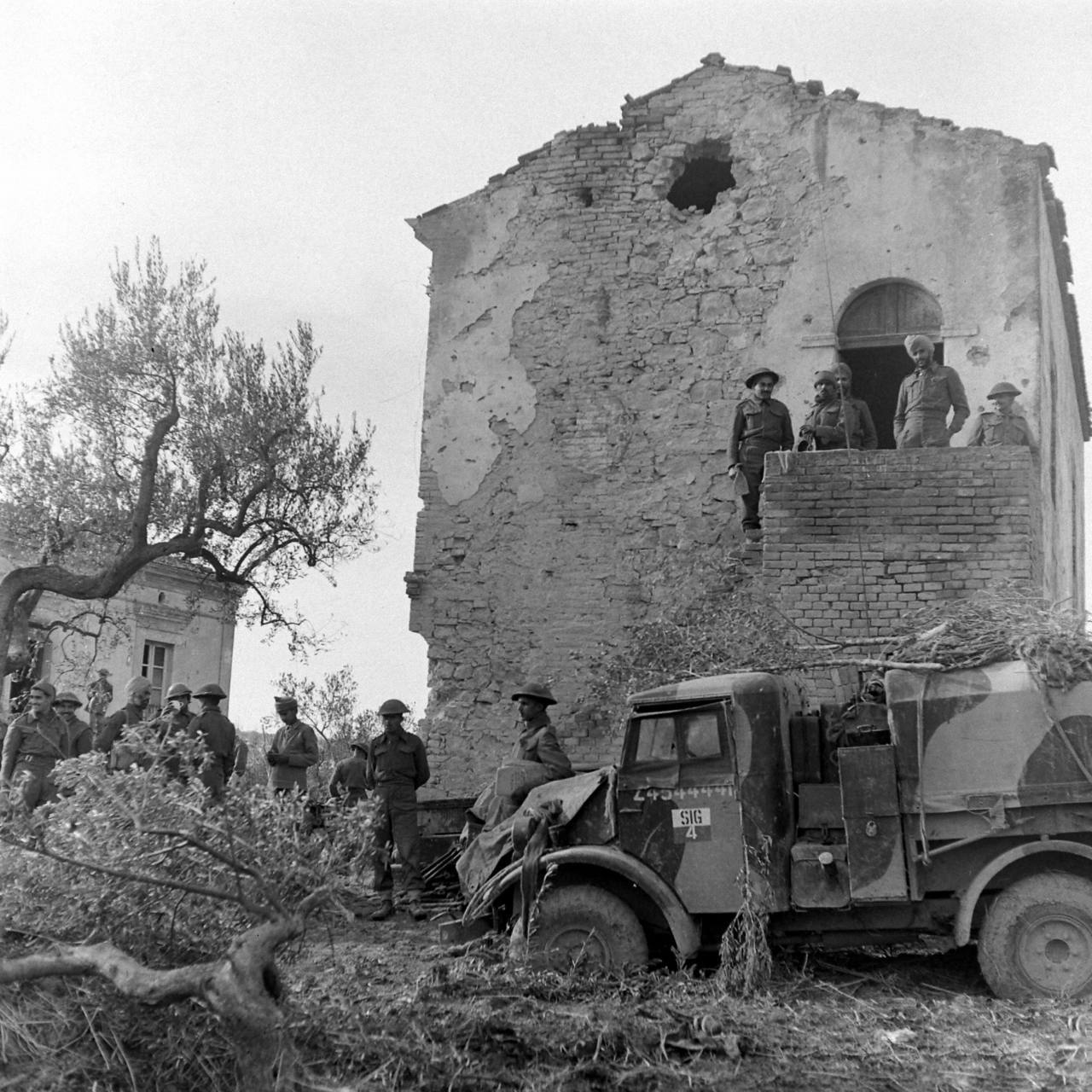 8th Indian army Division regiment in Forli

The Eighth Army was a British & Commonwealth Force, formed in North Africa during 1942, where it fought and defeated the Afrika Korps. After the campaign in North Africa, the Eighth Army became heavily committed in the invasions of Sicily and Italy. Units were also withdrawn to take part in the D-Day invasion and campaigns throughout Northern Europe. On 24 September 1943 the Division landed in Taranto
Taranto-Environment:
In 1991 Taranto was declared a high environmental risk area by the Ministry of Environment. As a consequence of the poisons discharged into the air by the factories on its territory, Taranto is the most polluted city in Italy and western Europe...(Italy), to take its part in the Italian Campaign Italian Campaign (World War II) The Italian Campaign of World War II was the name of Allied operations in and around Italy, from 1943 to the end of the war in Europe and for 19 months was almost continuously in action advancing through mountainous country, crossing river after river. The formation later adopted the motto "One more river".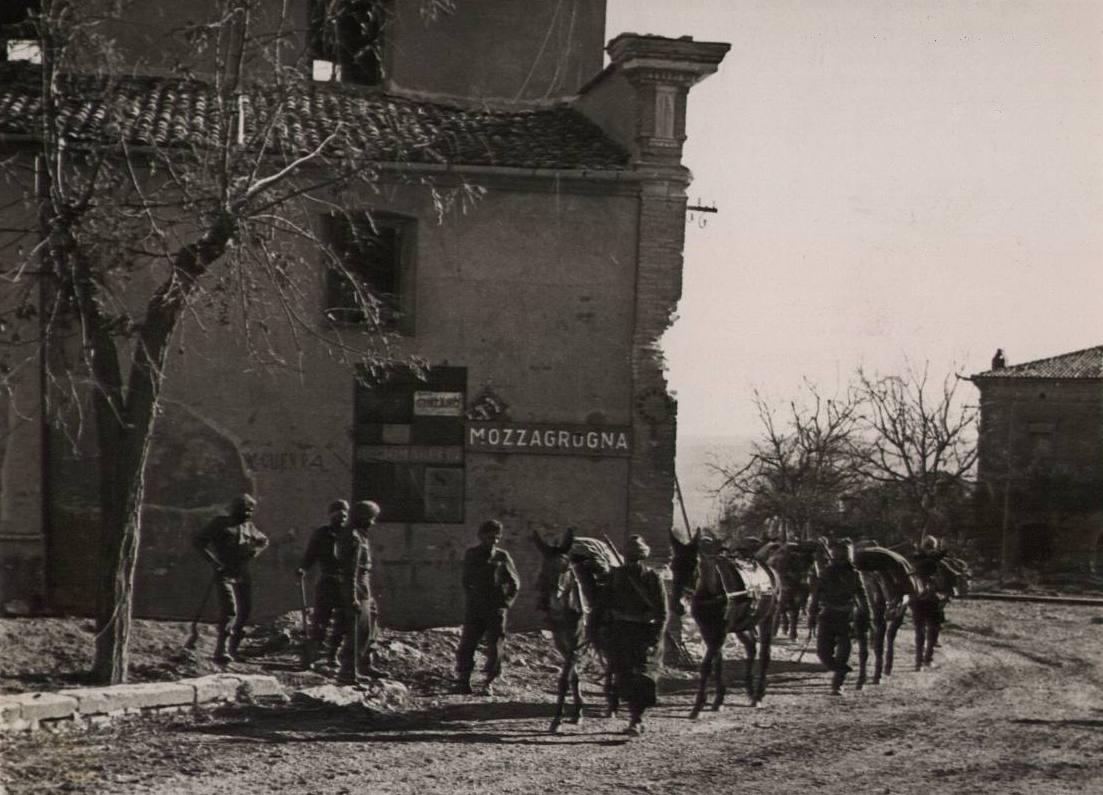 A Sikh regiment in Mozzagrogna Italy
From September 1943 to April 1945,
approximately 50,000 soldiers of the Indian
Army took part in the Italian Campaign. They
came from all of India's major faiths, Hindu,
Muslim, and Sikh. All of them sacrificed their
lives, fighting in a continent and for a country
that wasn't their own. Some of these soldiers
were only 16 years old. Most of them were less
than 20 years old and were too young to see
things that men of their age were never meant
to see blood, brutality and death. These young
men fought for a cause that was not their own.
Their cause was India's freedom. Yet, they
adopted the cause of liberty in Italy as theirs.
And they fought ferociously for it. The most
evident sign of Indian presence in Italy is
represented by the War Cemeteries and the
cremation memorial.
The story of Indian Army in Italy during the
Second World War brings out the courage,
mettle, the human face and the sacrifices made
by officers and men. But this glory came at a
cost. Indian casualties in this campaign were
twenty three thousand seven hundred and
twenty two (23,722). 5,782 Indian Soldiers
gave the supreme sacrifice of their lives on the
soil of Italy.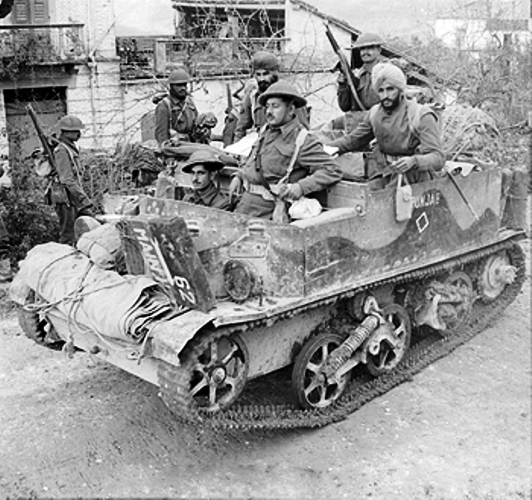 Members of Punjab Regiment on a bren gun carrier in Florence Italy
"Quando tornate a casa
Roccontate loro di noi e dite loro
Che per il loro futuro
Abbiamo Sacrificiato il nostro presente."

In Italian, it means :

'When you go home,
tell them of us,
and say for your tomorrow,
we gave our today'.
Let us spare a thought, on the above historical inscription which is from the famous
Kohima War Mem
orial
.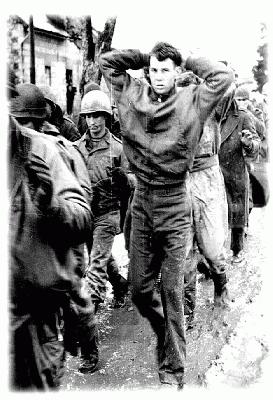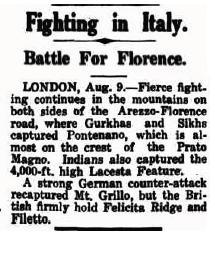 Yank Magazine, 1944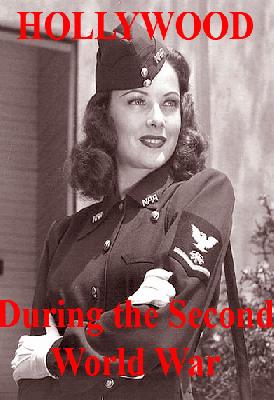 "Captured during the fall of Singapore, 66 soldiers of the 5/11 Sikh Regiment of the Indian Army were freed by our troops. Used as slave laborers since their capture in February 1942, the Indians were building jetties on Los Negros Island when they were rescued."
"Asked how they were treated by the Japanese, the Sikhs shake their heads sadly, smile and say, 'Not very
well'---''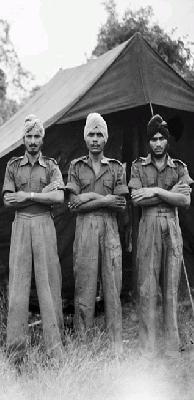 High Flight
by John Gillespie Magee
Oh, I have slipped the surly bonds of earth

And danced the skies on laughter-silvered wings;
Sunward I've climbed, and joined the tumbling mirth
Of sun-split clouds, – and done a hundred things
You have not dreamed of – wheeled and soared and swung
High in the sunlit silence. Hov'ring there,
I've chased the shouting wind along, and flung
My eager craft through footless halls of air –
Up, up the long, delirious, burning blue
I've topped the wind-swept heights with easy grace
Where never lark or even eagle flew –
And, while with silent lifting mind I've trod
The high untrespassed sanctity of space,
Put out my hand, and touched the face of God.
Written by John Gillespie Magee when he was 19 year old fighter pilot during WW11 - as he soared into the atmosphere during a high altitude test flight of a Spitfire V. Magee died three
months later in a mid-air collision.
.
Lt

Gen Inderjit Singh Gill,
PVSM, MC;Born To Dare---
-
Serving Britain behind the German and Italian lines during World War II, Inder Gill was part of a campaign to foment resistance against the Axis powers in Greece and to cripple their transport arteries by blowing up key bridges. Leaving Greece, he served with the Royal Engineers on the slog from Cassino to Bologna, where he was injured twice in explosions, shrapnel from which he carried in his body for the rest of his life.
Joining the Indian Army, he served with the J&K Militia in Kashmir in the troubled times just after Independence, and was involved in peacekeeping operations in Korea and Gaza. Commanding the high passes during Sikkim's travails, he also headed the Directorate of Military Operations during the 1971 War, before retiring as commander of India's Western Army

.
The causes, events and people of the conflict dubbed the 'war to end all wars'.



On Passing the New Menin Gate, by Siegfried Sassoon
Who will remember, passing through this Gate,
The unheroic Dead who fed the guns?
Who shall absolve the foulness of their fate, -
Those doomed, conscripted, unvictorious ones?
Crudely renewed, the Salient holds its own.
Paid are its dim defenders by this pomp;
Paid, with a pile of peace-complacent stone,
The armies who endured that sullen swamp.
Here was the world's worst wound. And here with pride
'Their name liveth for evermore' the Gateway claims.
Was ever an immolation so belied
As these intolerably nameless names?
Well might the Dead who struggled in the slime
Rise and deride this sepulch


Chief Officer Margaret L Cooper, Deputy Director of the Women's Royal Indian Naval Service (WRINS), with Second Officer Kalyani Sen, WRINS at Rosyth during their two month study visit to Britain, 3rd June 1945
Trainee mechanical engineers at work in the Royal Indian Navy's shore establishment, HMIS TALWAR, near Bombay, 1941
Crew of HMIS 'Narbada' with blistered gun barrels following the bombardment of Myebon, Hunters Bay, Burma
Zavier Fernandez from Bombay was injured when the Russian convoy in which he was sailing was attacked. In hospital he underwent rehabilitation and in this photograph he was recovering the use of his fingers by working at strings on a frame
Workers at an Indian railway workshop now employed in the construction of armoured vehicles, 1942
Indian Air Force engineering officers under training at the Schools of Aeronautical Engineering, RAF Henlow, July 1943
Patriots always talk of dying for their country and never of killing for their country. ~Bertrand Russell


Private Begum Pasha Shah of the WAC (1) on duty in the Orderly Room of an RAF station in India, August 1943
Indian women labourers, engaged in airfield construction work, pass mechanics working on a Royal Air Force Consolidated Liberator bomber at a base in Bengal. 1944
Squadron Leader Karun Krishna Majumdar was awarded the Distinguished Flying Cross - the first to be awarded to an Indian Air Force officer - for the gallantry and leadership that he displayed while serving as the commanding officer of No 1 Squadron, Indian Air Force, during the retreat from Burma in 1942. He was subsequently awarded a Bar to the DFC in recognition of his courage and skill while serving as a tactical reconnaissance pilot with No 268 Squadron, Royal Air Force, during the liberation of France in 1944. Squadron Leader Majumdar was the only Indian Air Force officer to receive two DFCs during the Second World War
A scout car crew of 6th Duke of Connaught's Own Lancers, Indian Armoured Corps, chat with youngsters in San Felice, Italy, during the advance towards the River Sangro


India, officially the Indian Empire, declared war on Germany in September 1939. The Provinces of India (which included most of modern-day India and the present day Bangladesh, Pakistan and Myanmar), being imperial colonies of the United Kingdom, were by default a part of the Allies of World War II. Several Indian princely states provided large donations to the Allies to combat the threat of Nazism and Fascism (Wikipedia)
Two crew members of a Sherman tank of the Scinde Horse, part of the Indian 31st Armoured Division in Iraq, March 1944
An Indian infantry section of the 2nd Battalion, 7th Rajput Regiment about to go on patrol on the Arakan front, Burma 1943
Plt Offr I H Latif Royal Indian Airforce, is introduced to the Queen during the Victory Parade in 1946. Field Marshal Auchinlech is in the background. The Present regent, Queen Elizabeth is standing on the left.
The Tigers celebrate their CO's DFC. Air Cmde SF Vincent, AOC 221 Group is lying on the ground along with Sqn Ldr Arjan Singh who later became an Air Marshall in the IAF.
In 1958 the nearly intact Lady Be Good was
discovered 710 km (440 miles) inland.
Subsequent searches uncovered the remains
of all but one of the crew.
The following is taken from The Arunachal Times Publications Pvt. Ltd.,

Siang House, Sector - E, Itanagar, Arunachal Pradesh - 791111, India
3 more WW-II plane wreckages found
M Doley
ITANAGAR, Mar 1: Wreckages of planes used during World War- II (WW-II) continued to be discovered in Arunachal Pradesh -- the so called 'Bermuda Triangle' of North East. Over the last few years, three more such wreckages were found in dense forests of Changlang district.
According to M Yobin (Lisu), a resident of Gandhigram village in Changlang district, the wreckages were found in remote mountain jungles of Changlang which can be reached after 11 to 12 days trekking from Miao town. The wrecked planes are believed to be the remains of US aircrafts used during WW-II.
"A metal plate with words "Signal Core, US Army" inscribed on it and some human bone parts are still there to be seen," Yobin told this reporter over telephone this afternoon. He said that most of the metal parts were taken away by villagers.
Earlier, wreckages of MIA (several missing-in-action) US fighter planes were recovered from various parts of Arunachal, including one on a hilltop right in the heart of the state capital, Sagalee, Anini, Donli, Aalo, Tezu, Damroh and Chayang Tajo.
A search operation was also conducted by a US defence team in different places few years ago with the help of Indian Air Force for detection of more plane wreckages.
The allies had lost hundreds of aircrafts in Arunachal Pradesh during World War II while maintaining supply line to allied forces fighting against the Japanese mainly due to inhospitable terrain, unpredictable weather and mechanical failure.
Former Minor Leaguers' Airplane Wreckage (2009)
Discovered After 64 Years .
On May 25, 1944, Technical Sergeant John Regan was the radio operator/gunner on
Consolidated B-24J Liberator "Zoot Chute" that was bound for Chabua, India. The
last radio contact was made 30 minutes east of its destination. It was never heard
from again. One year later the crew of 10 were officially declared dead and due to
the mountainous terrain where the plane was lost, it was believed that if the plane
were located, it would be impossible to recover the remains.
On October 26, 2008, 64 years after "Zoot Chute" disappeared, it was discovered by
aviation archaeologist Clayton Kuhles. Kuhles, of Prescott, Arizona, conducts regular
expeditions to Burma, India, Bangladesh and China to locate and document missingin-action (MIA) allied aircraft lost in that area during World War II. He discovered the
B-24 at over 11,000 feet elevation on a rugged mountain north of Damroh. The
nearest village was Milang, a 5-day trek. Kuhles next task is to locate and notify the
surviving family members.
The Aluminum Trail is the "Bible" of aircraft accidents on the Hump route, and was compiled by Chic Marrs Quinn whose husband died in a C-109 crash on the Hump route on 27 Feb 1945.
During WW II, The US lost hundreds of aircraft in the China-Burma-India (CBI) theater of operations. Although hostile fire from Japanese forces accounted for many of these aircraft losses, the majority of US aircraft were lost due to inhospitable weather, mechanical failure or navigational error.
---
| | |
| --- | --- |
| Wreckage of C-47A #42-24360 | Main landing gear of C-87 #41-23791 |
Remembering their sacrifice
At midday on Sunday 26 September, a new war memorial, built by the Commonwealth War Graves Commission, was unveiled in close proximity to the Chattri Indian Memorial in Patcham. It is designed to pay tribute to some of the one and half million Indian soldiers who fought for the British Empire during the First World War. The new memorial bears the names of 53 Indian soldiers who died in Brighton and were cremated on the site of the Chattri memorial.
Damaged C-47 in NE India
Photo courtesy of SSgt. Ignatius P. O'Saben family
Operation Bodylift---PEOPLE FORGET WITH PASSAGE OF TIME!!
One of the grim and unpleasant tasks during and after any war, is the collection and burial of our dead. The US Army Graves Registration Service established a US cemetery in Calcutta, India as a final resting place for those US war dead not sent back to the USA. In November 1945, the 1305 AAF Base Unit at Dum Dum airport near Calcutta was tasked to move all US war dead in India and Burma to Calcutta for reburial. Two C-47 aircraft were permanently assigned to this duty. After just a few trips, these aerial hearses smelled so badly that they could no longer be comfortably or safely used for any other type of mission. In flight, the smell was reasonably bearable for the crewmembers since windows were left open and the cargo doors were often removed. On the ground, the smell was unbearable due to the heat. The crewmembers frequently used wintergreen in handkerchiefs of makeshift facemasks until they could get airborne again. In November and December 1945, a total of 890 bodies were collected from all over Burma and India and flown to Calcutta. This required a lot of trips, since the usual load was only about 15 caskets and often less than that.
The all-volunteer aircrews who flew the initial body pickups were given an official commendation by Col. U.G. Jones, Commander of the 1305 AAF Base Unit, which said in part:
"During the month of November 1945, the 1305 AAF Base Unit was charged with the responsibility of moving from the widely dispersed and almost inaccessible areas of the Assam valley to the Calcutta area the bodies of those American servicemen whose lives had been given in our great drive for international peace. Near Calcutta, a United States cemetery has been established where those who cannot return to their loved ones at home can rest together in peace. The thought of those who made the supreme sacrifice having a centralized and well-kept resting place which their families might visit, was indeed pleasant. However, all personnel involved were cognizant of the mental and physical effects the missions might have on the crews assigned to the movement, and with this thought in mind, volunteers were requested. You volunteered for a mission totally lacking in glory and adventure; you volunteered for a task known to be extremely unpleasant. In addition, you were cognizant of the fact that these flights would be made over hazardous terrain and that treacherous weather conditions might be encountered. As your Commanding Officer, I take great pride in commending you and your fellow crewmembers, who during the period of 28 November 1945 to 29 December 1945, aided in the movement of the remains of 890 American servicemen. Never before, have I seen a better display of true American spirit and efficient performance. The fact that under these extremely trying conditions, not a single mishap occurred, amplifies and clarifies the above statement."
This project continued up through 1948, after the CBI theater closed and all troops had gone home. Two all-volunteer C-47 aircrews, led by Capt. Tommy Cale of Prattville, Alabama, remained during this period and flew all over Southeast Asia recovering American war dead. When this project was finally finished, the airplanes were scrapped.
39 Bombs from World War II Found in Manipur,India
I
n memory of those Indian Soldiers who who fought and
died so far away from their Country----
YOU WILL NEVER BE FORGOTTEN
SOMME WW1-INDIAN SOLDIERS REMEMBERED,THANK YOU
FRANCE
KEREN PASS ERITREA-INDIAN SOLDIERS REMEMBERED, THANK
YOU ERITREA AND ETHIOPIA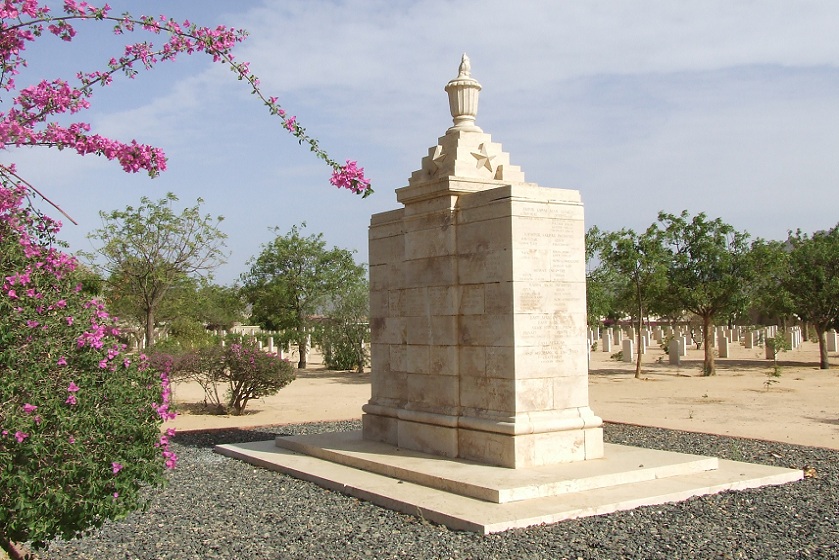 Sikh and Hindu cremation memorial - Keren Eritrea.
GAZA CEMETERY -INDIAN SOLDIERS REMEMBERED, THANK
YOU ISRAEL AND JORDAN
''W
- ''What struck me about the Gaza War cemetary was not the 'unlikeliness' of its tranquility, nor the variety of nationalities and faiths buried there (over 3,600 soldiers of different countries, including India, Egypt, Canada, France, Belgium, Russia, Scotland, England, Greece…), but the craftsmanship of Ibrahim Jeradeh, the 72 year old retired gardener and caretaker who tended and nurtured the cemetery for over 50 years before passing the task on to his sons.''----visitors remarks.
FORLI CEMETERY-INDIAN SOLDIERS REMEMBERED, THANK
YOU ITALY
NEUVE CHAPPELE INDIAN WAR MEMORIAL
TO THE HONOUR OF THE ARMY OF INDIA WHICH FOUGHT IN FRANCE AND BELGIUM, 1914-1918, AND IN PERPETUAL REMEMBRANCE OF THOSE OF THEIR DEAD WHOSE NAMES ARE HERE RECORDED AND WHO HAVE NO KNOWN GRAVE-THANK YOU FRANCE
IPKF MEMORIAL - SRI LANKA, THANK YOU SRI LANKA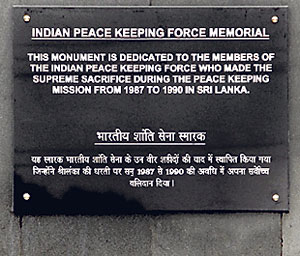 DEATH RAIL ,THAILAND-INDIAN SOLDIERS REMEMBERED, THANK
YOU THAILAND

ATHUILLE WAR CEMETERY -INDIAN SOLDIERS REMEMBERED,
THANK YOU ENGLAND
POPPIES IN MEMORY OF THE BRAVE-----And finally , a tribute to a man I never met. I am including a picture and a letter that I recieved pertaining to Sgt D S Sidhu, a cousin of my Dad, whose plane had been shot down by the Germans on a mine laying mission off the coast of Denmark in 1944. The Stirling bomber ( W7513 )was lost with the entire crew on board.The plane and crew were never found.His name is on Panel 147 on the Runnymede Memorial in London.
News
27 June 2012
A national Memorial to commemorate the tragic loss of 55,573 young Bomber Command airmen in the Second World War will be unveiled at a ceremony in Green Park, London, at 1200 tomorrow, 28 June 2012.
During the 30-minute ceremony, Her Majesty the Queen will unveil a nine foot high bronze sculpture depicting seven Bomber Command aircrew. A Bomber Command veteran will read an exhortation before the act of remembrance. The ceremony will end with a flypast by five RAF GR4 Tornado bomber aircraft crewed by today's Royal Air Force. This will be followed by a flypast at 1230 by the RAF BBMF Lancaster Bomber, PA474, which will drop poppies over Green Park as a message of remembrance for the 55,573 Bomber aircrew lost.
And that is how I recieved a poppy petal----------------
Stirling W7513 crew - Sgt. David Church on extreme left, Sgt. Patrick Torre Hunter 2nd left,
Sgt. Devinder Singh Sidhu 3rd from left
,
centre Sgt. Keith Halliburton (the three on the right of Sgt Halliburton most probably are
Air/Bmr Sgt Thomas Scarfe ,
Air/Gnr SgtCharles Henry George Boxall
and
Air/Gnr Sgt Alexander Clunie Howell