---------------------IN THIS CLOISTER ARE RECORDED THE NAMES OF TWENTY THOUSAND AIRMEN WHO HAVE NO KNOWN GRAVE. THEY DIED FOR FREEDOM IN RAID AND SORTIE OVER THE BRITISH ISLES AND THE LANDS AND SEAS OF NORTHERN AND WESTERN EUROPE
The Runnymede Memorial

Flanders Indian Memorial
John Sutherland attended the official unveiling of a new Indian War Memorial in Ieper on 12th March on behalf of the Royal British Legion. The Indian Corps, comprising two cavalry and two infantry divisions, arrived in France in October 1914 and provided just enough reinforcement to allow the B.E.F. to hold Ypres against ferocious German attacks
Indian Forces Memorial, Ypres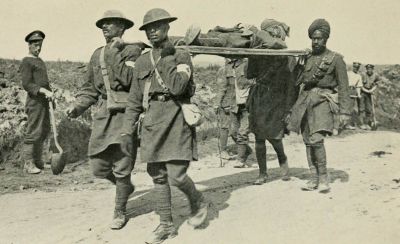 Indian soldiers carrying wounded officer -WW1
Entrance to the War Cemetery in Belgium honouring soldiers who died fighting in the first World War
Indian troops also served in North Africa, Italy and Greece during World War 2, but the majority of India's 87,000 military war dead fell in the Far East campaigns against the Japanese in Malaya and Burma. The latter contributed to the 1943 Bengal famine, when at least 2 million Indian civilians died and possibly as many as 4 million.
. . . . AT THE GOING DOWN OF THE SUN, AND IN THE MORNING . . . .
The safety, honor and welfare of your country come first always and everytime. The honor, welfare and comfort of the men you command come next. Your own ease, comfort and safety comelast, always and everytime--
.
The first group of Indian pilots arrive in the UK, 1940
When the RAF advertised to cover the shortage in qualified pilots, 24 Asians answered Britain's call. 18 successfully passed their training and flew missions in Spitfires, Hurricanes and Lancaster bombers. Among them was fighter pilot Mahinder Singh Pujji, who served with both the RAF and Indian Air Force. He flew missions over the English Channel with squadrons 43 and 258 between 1940-1, and also fought in North Africa and Burma. In 1945 he was awarded the Distinguished Flying Cross. Another notable pilot was Prithipal Singh who is featured below
Prithipal Singh, one of 18 Indian RAF pilots flying with the RAF





Plaque acknowledging Noor Inayat
Noor Inayat Khan of India

was the daughter of Inayat Khan, musician and founder of the Sufi order in Europe. In 1942, she was recruited into the

Special Operations Executive (SOE)

, a secret organisation sabotaging the German war machine. She was one of the first female wireless operators infiltrated into occupied France. On arrival she found that her unit had already been betrayed

.

As the last remaining wireless operator in France she continued to transmit messages to London. In 1943, the Gestapo captured her. Although tortured, she refused to reveal any information. She was executed in 1944. She was posthumously awarded the Croix de Guerre with Gold Star by the French Republic and in 1949 the George Cross by the British Government. A campaign for a permanent memorial for her is currently underway




39. Sergeant Francis Daggett with a German soldier of only 15 years old. Kronach, Germany. 27.04.1945.
.