'
Get
it all on record now - get the films - get the witnesses - because somewhere down the track of history some bastard will get up and say that this never happened' --
General Dwight Eisenhower
Photos

Below-Open

source Internet
WE CANNOT LET IT EVER HAPPEN AGAIN
Photo Below-Open Source Internet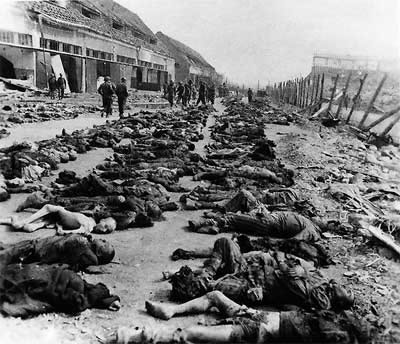 YOU THINK SO ?? IT HAS BEEN HAPPENING REGULARLY
Photo Below-Open Source Internet
Srebrenica---1992-95
(Just One Example)
Civilization has made man, if not always more
bloodthirsty, at least more viciously, more
horribly bloodthirsty--
Photo Below-Courtesy Tony Sarao
The entrance to the Auschwitz Concentration Camp
1945
'
'Arbeit Macht Frei
''
(WORK SETS YOU FREE)
Photo Below-Open Source Internet
The entrance to the Manjaca Concentration

Camp
1995
Photo Below-Courtesy Tony Sarao
Auschwitz I,
the main camp, was the first camp established near Oswiecim. Construction began in May 1940 in an abandoned Polish army artillery barracks, located in a suburb of the city.I
n total, approximately 1.1 million Jews were deported to Auschwitz. SS and police authorities deported approximately 200,000 other victims to Auschwitz, including 140,000-150,000
non-Jewish Poles
, 23,000 Roma and Sinti (Gypsies), 15,000
Soviet prisoners of war
, and 25,000 others (Soviet civilians, Lithuanians, Czechs, French, Yugoslavs, Germans, Austrians, and Italians)
]
Photos Below-Courtesy Tony Sarao
Photo Below-Courtesy Tony Sara

o
The SS authorities established three main camps near the Polish city of Oswiecim: Auschwitz I in May 1940; Auschwitz II (also called Auschwitz-Birkenau) in early 1942; and Auschwitz III (also called Auschwitz-Monowitz) in October 1942
Photos Below courtesy Tony Sarao
Photo Below-Courtesy Tony Sarao
Auschwitz I was first constructed to hold Polish political
prisoners, who began to arrive in May 1940. The first
extermination of prisoners took place in September 1941
and Auschwitz II–Birkenau went on to become a major site
early 1942 until late 1944, transport trains delivered Jews to
Photo Below-Courtesy Tony Sarao
PROSTHETICS
Photo Above Courtesy Tony Sara
o
SPECTACLES
Photo Above Courtesy Tony Sarao
PERSONAL EFFECTS SUITCASES
Photo Above Courtesy Tony Sarao
A CHILDS DOLL
Photo Above Courtesy Tony Sarao
The fences were electrified , with Watch Towers ,
Searchlights and Guards around the perimeter
Photos above and Below courtesy Tony Sarao
At Auschwitz I, SS physicians carried out
medical experiments
in the hospital, Barrack (Block) 10. They conducted pseudoscientific research on infants, twins, and dwarfs, and performed forced sterilizations, castrations, and hypothermia experiments on adults. The best-known of these physicians was SS Captain Dr. Josef
Mengele
All
Rooms Neatly Numbered and Each For A Specific Purpose
LEFT--BATHING POINTS AND WASH ROOMS
BUNKS--STRAW WAS GIVEN , THE COLD WAS UNBEARABLE
COMMUNAL BATHROOMS
Auschwitz was considered a comfortable posting by many SS members, due to many amenities and the abundance of slave labor.
Of the various prisoner groups, SS officers preferred Jehovah's Witnesses for household slaves because of their nonviolent behavior.
Höss lived with his wife and children in a villa just outside the camp grounds. Other SS personnel were also initially allowed to bring fiancees, wives, and children to live at the camp, but when the SS camp grew more crowded, Höss restricted further arrivals. Facilities for the SS personnel and their families included a library, swimming pool, coffee house, and a theater that hosted regular performances
C
amp commandant Rudolf Höss was pursued by the British Intelligence Corps, who arrested him at a farm near Flensburg, Germany on March 11, 1946. Höss confessed to his role in the mass killings at Auschwitz in his memoirs and in his trial in Warsaw, Poland. He was hanged at the camp on April 16, 1947
Photos-Courtesy Tony Sarao
THE COMMANDANTS HOUSE(RIGHT)AND THE PLACE WHERE HE WAS HANGED LATER(BELOW)
CHIMNEY STACK OF THE GAS CHAMBERS AND THE CREMATORIUM-VISIBLE FROM THE COMMANDANTS HOUSE
THE EXECUTION WALL-LINED UP AND SHOT
CANS WHICH CONTAINED(CYCLONE B ) USED FOR KILLING IN THE GAS CHAMBERS
CREMATORIUMS
Photos-Courtesy Tony Sarao
GAS CHAMBERS(NOTICE THE VENT ABOVE THE SHOWER ROOM FROM WHERE THE GAS WAS RELEASED
At least 960,000 Jews were killed in Auschwitz. Other victims included approximately 74,000 Poles, 21,000 Roma (Gypsies), and 15,000 Soviet prisoners of war; and 10,000-15,000 members of other nationalities (Soviet civilians, Czechs, Yugoslavs, French, Germans, and Austrians)
Photos-Courtesy Tony Sarao
Construction
of Auschwitz II, or Auschwitz-Birkenau
began in the vicinity of Brzezinka in October 1941. Of
the three camps established near Oswiecim, the
Auschwitz-Birkenau camp had the largest total prisoner
population. It was divided into more than a dozen
sections separated by electrified barbed-wire fences
and, like Auschwitz I, was patrolled by SS guards
Photos-Courtesy Tony Sarao

Crammed Like Sardines-Living Barracks
"Man is the cruelest animal."
―
Friedrich Nietzsche
PICTURE TAKEN FROM THE
AUSCHWITZ MUSEUM --
by Tony Sarao
Photo above courtesy Tony Sarao
ABOVE THE RAILWAY SIDING WHERE PRISONERS DIS-EMBARKED , SOME WERE LEAD DIRECT TO THE ''SHOWERS
"
Photo above-Courtesy Tony Sarao
THE BIRKENAU CREMATORIUM , BLOWN UP AS THE RUSSIANS ADVANCED
========================================================================
PLEASE NOTE , ALL PICTURES
BELOW
ARE FROM OPEN SOURCES (INTERNET)
In the end , remember . Auschwitz was neither the first nor the last--Every country on this Earth has an Auschwitz to hide
LEBANON
On16-
09-82, the
Israel
i army
controlled West Beirut, sealed off the 2 Palestinian refugee camps Sabra and Shatila and fired shells at them. Later, the Israeli military command gave the Israeli-allied Lebanese Phalangist militia the green light to enter the refugee camps. For the next 40 hours the Phalangist militia raped, killed, and injured a large number of unarmed civilians, mostly children, women and elderly people
SABRA & SHATILA
SYRIA--Gas & Kill Your Own Citizens!!
A COLLECTIVE SILENCE???
IRAQ
Amiriyah shelter bombing was an aerial attack that killed more than 408 civilians on 13 February 1991 during the Persian Gulf War when an air-raid shelter ("Public Shelter No. 25"), also referred to as the Al Firdos C3 bunker by the U.S. military, in the Amiriyah neighborhood of Baghdad, Iraq, was destroyed by the U.S. Air Force with two laser-guided "smart bombs"
HIGH WAY OF DEATH
ist
Not all the deaths are from war, bullets ,
and white phosphorus. Some come from
denial of sanitation, food ,
basic human
rights and cruelty of mankind
"The hottest places in hell are reserved for
those who, in times of great moral crisis,
maintain their neutrality."
―
Dante Alighieri
,
Inferno