Indian National Army
From General Douglas Mac Arthur's speech to a joint session of the US Congress:
"Old soldiers never die; they simply fade away."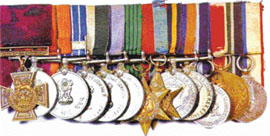 Victoria Cross and other medals awarded to Sub-Maj Aagan Singh Rai,indian Army, which were auctioned in London recently for
£115,000
----a shame!!
Neuve-Chapelle Indian Memorial
Pas de Calais, France
TO THE HONOUR OF THE ARMY OF INDIA WHICH FOUGHT IN FRANCE AND BELGIUM, 1914-1918, AND IN PERPETUAL REMEMBRANCE OF THOSE OF THEIR DEAD WHOSE NAMES ARE HERE RECORDED AND WHO HAVE NO KNOWN GRAVE.
On October 31, 1914, at Hollebeke, Belgium, Sepoy Khudadad Khan from 129th Duke of Connaught's Own Baluchis, was in the machine-gun section of his battalion and was working one of the two guns. The British officer in charge of the detachment had been wounded and the other gun was put out of action by a shell. Sepoy Khudadad Khan, although wounded himself, continued working his gun after all the other five men of the detachment had been killed.

He was left by the enemy for dead. He later managed to crawl out and rejoin his unit. For his heroic deeds, he was awarded Britain's highest medal for valour, the Victoria Cross (VC).

Sub Khudadad Khan
T
he battles on the Western Front in which the Indian Army took part: La Bassee 1914, Ypres 1914-15, Givenchy 1914, Aubers, Bazentin, Morval, Messines 1914, Gheluvelt, Neuve Chapelle, Loos, Delville Wood, Armentieres 1914, Festubert 1914-15, St Julien, Somme 1916, Flers-Courcelette and Cambrai 1917--
- ''
They shall grow not old, as we that are left grow old:
Age shall not weary them, nor the years condemn.
At the going down of the sun and in the morning,
We will remember them.''
Presentation

" Greater love hath no man than this, that a man lay down his life for his friends."

"The Japanese government had approached the Centre to take home the mortal remains of their soldiers buried here," said an official.
The Japanese officials who were involved in the operation on Wednesday were Koju Matsubaysal, first secretary of Japanese embassy, Ken Miyashita, deputy director of foreign affairs, Japan (planning division of war victims' relief) and Massahiro Takeda.
"The Japanese government had approached the Centre to take home the mortal remains of their soldiers buried here," said an official.
The Japanese officials who were involved in the operation on Wednesday were Koju Matsubaysal, first secretary of Japanese embassy, Ken Miyashita, deputy director of foreign affairs, Japan (planning division of war victims' relief) and Massahiro Takeda, a technical expert.
Snippets From History ---- Sikh soldier with an Italian damsel in Italy
WW2
Lest We Forget...
German soldiers preserved in World War I shelter discovered after nearly 100 years
Twenty-one German soldiers entombed in a perfectly preserved World War One shelter have been discovered 94 years after they were killed.

Many of the skeletal remains were found in the same positions the men had been in at the time of the collapse, prompting experts to liken the scene to Pompeii.

Archaeologists believe the items were so well preserved because hardly any air, water or lights had penetrated the trench.
The 300ft long tunnel was located 18ft beneath the surface near the small town of Carspach in the Alsace region in France.
A number of the soldiers were discovered sitting upright on a bench, one was lying in his bed and another was in the foetal position having been thrown down a flight of stairs.

As well as the bodies, poignant personal effects such as boots, helmets, weapons, wine bottles, spectacles, wallets, pipes, cigarette cases and pocket books were also found.
Even the skeleton of a goat was found, assumed to be a source of fresh milk for the soldiers.
-----------

''I have many times asked myself whether there can be more potent advocates of
peace upon earth through the years to come than this massed multitude of silent witnesses to the desolation of war.''
King George V, Flanders, 1922








India Gate

,

New Delhi

The Uknown Soldier

--Burning in a shrine under the arch of India Gate since 1971 is the Amar Jawan Jyoti (the flame of the immortal soldier) which marks the Tomb of the Unknown Soldier. The shrine itself is a black marble cenotaph with a rifle placed on its barrel, crested by a soldier's helmet. Each face of the cenotaph has inscribed in gold the words "Amar Jawan" (Immortal Warrior) in the Hindi language.

Oh bury me at Cassino

My duty to England is done

And when you get back to Blighty

And you are drinking your whisky and rum

Remember the old Indian soldier

War Song from the WWII Italian Campaign

)

The

FORLI INDIAN ARMY WAR CEMETERY(ITALY)--

-

Take the autostrada A14, Bologna to Ancona and exit at Forli. Follow the road into the town of Forli for about 3 kilometres and the Indian War Cemetery can be found on the left hand side, opposite the Communal Cemetery. Within the cemetery, is the Forli Cremation Memorial commemorating over 700 Hindu and Sikh officers and men of the Indian Army who were killed in the fighting in Central Italy between 16th April 1944, and October 1944, and during the attacks on the Gothic Line and the final breakthrough, August 1944 untill April 1945, and whose bodies were cremated. This is one of three Indian cremation memorials in Italy, the others being in Sangro River War Cemetery and in Rimini Gurkha War Cemetery.




On Imphal front, Sikh signaller operates wireless for British officers, listening to patrols reporting Japanese positions.

Spare a Thought---
Taps For Fallen Brave , click on the ''play'' button
(Image courtesy: U.S. Air Force/Roland )
Almost every American sports fan has heard of Hickory, Ind., which was immortalized in the 1986 film "Hoosiers." Yet many who recite the movie's unforgettable lines think Hickory actually exists. It doesn't, although some real-life towns come close.
The northern Indiana town of Hamlet is about 100 miles from New Richmond, where most of "Hoosiers" was filmed. Like the fictional community that Hickory High unites on its way to an improbable men's basketball state championship, Hamlet is tiny, with just 300 households full of fathers and sons who love Indiana sports.
Spc. Robert Tauteris III
just returned to the Hoosier State from Afghanistan, where he was serving with the 713th Engineer Company of the Indiana National Guard. Instead of a welcome home celebration, though, the 22-year-old soldier came back to the United States for a Jan. 8 dignified transfer ceremony.
The soldier escorted the flag-draped casket carrying his father,
Spc. Robert Tauteris Jr.
, home from Afghanistan. On Jan. 6, alongside
Staff Sgt. Jonathan Metzger
, 32,
Spc. Christopher Patterson
, 20, and
Spc. Brian Leonhardt
, 21, the elder Tauteris, 44, was killed by an improvised explosive device planted in the volatile Kandahar Province, according to the Pentagon.
Surrounded by his family, the grieving son spoke to reporters on Jan. 11. Quotes from the news conference are provided by
WSBT-TV
reporter Clifton French, an Iraq war veteran.
"It was an honor being able to escort my father and the other fallen soldiers home from Afghanistan," Tauteris said. "It's something I'll never forget, and I'm more honored to do that than I have been to do many things in my life."
Long before the father and son served together in Afghanistan, the younger Robert and his brother, Matthew, looked up to their dad.
"He stood up as our boy scout leader from the time we were very young to being too old to be in boy scouts," the soldier said.
Gen. Martin Dempsey
, Chairman of the Joints Chiefs of Staff, stood and saluted in the darkness of Delaware's Dover Air Force Base as fellow troops carried each flag-draped casket onto the soil of the nation they died for.
Maj. Gen. Martin Umbarger
, adjutant general of the Indiana National Guard, called on Americans to recognize the enormous sacrifices still being made in Afghanistan.
"We have no more solemn obligation than rendering the proper respect, honor, and tribute to these faithful warriors and to provide the fullest possible support to their families during this difficult time," Maj. Gen. Umbarger said.
Tauteris reminded reporters that while his dad was a dedicated soldier after enlisting at age 40, he was a father, first and foremost.
"I can't stress enough how much he cared about me and my brother," the soldier said. "It was the most important thing to him; it was like his meaning in life was to be a father."
America's post-9/11 conflicts have touched many fathers and sons. In May 2010,
Chief Warrant Officer Michael McHugh
boarded a plane in Iraq
, where he was deployed, to meet the flag-draped casket of his father,
Col. John McHugh
, 46, who had been killed alongside four fellow troops in Afghanistan.
Just days after Col. McHugh's death, the Kansas City Royals honored the fallen hero by asking his grieving son to throw out the first pitch before a home game.
"I lost my best friend," Chief Warrant Officer McHugh wrote to the Unknown Soldiers in 2010. "The first pitch at Kauffman Stadium was such an honor, and we're grateful to the Royals for doing that for our family."
Like Michael McHugh, Robert Tauteris III is an American soldier — but also a son who lost his dad.
"He is a hero," Spc. Tauteris III said of his father. "I think what made him who he is ... is how much he cared about his children and his family."
One of the most touching moments in "Hoosiers" comes when Hickory's assistant coach, played by Dennis Hopper, is thrust into leading the team after the head coach, played by Gene Hackman, is ejected. After the play he drew up wins the game in dramatic fashion, he is approached by a player who is also his son.
"You did good, pop," he said. "You did real good."
(COPYRIGHT 2012 CREATORS.COM)
Image courtesy:

Sgt. John Crosby
Two Spitfires fly in formation at an air show at Imperial War Museum Duxford
* British single-seat fighter plane used by RAF and many Allied countries during WWII
* Its thin, elliptical wing allowed a higher top speed than similar fighters
* Speed was seen as essential to defend against enemy bombers
* Continued to be used into the 1950s as a front line fighter and in secondary roles
"…(you must) dispel by all possible means the idea that Rommel represents anything other than the ordinary German general……….PS, I'm not jealous of Rommel."
Auchinleck

----------
(Really!!??!!
)
Rommel studying maps during the battle at El Alamein
Cards from 1944
The main text is in Portuguese which when translated in English reads:


The India is steadily growing in strength and stature within the British Commonwealth of Nations. The British administration led peace inside its borders and laid the foundations of its future prosperity. Today, India is providing to its strength to safeguard their freedom against Nazi tyranny.


It then shows at bottom steel production in 1914 (during WW1) and in 1939 (during WW2) with heading "Increase in production of steel".

1914 - 63,000 Tons
Virgil's 1945 card from India
"Glory is the reward of Valour''
T
hese are a part of 158 photographs recovered from a captured Japanese officer in Burma during WW2 . He too had fought for his Country. Can anyone locate the families or the next of kin of these officers and soldiers??? The photographs were copied by me from one of the military museums in India .
WW II wreckage found in Tripura-- Assam Rifles jawans discover airplane crash site after month long search------
Agartala, Jan. 14: The Assam Rifles have discovered the crash site and a propeller of an American plane, which had crashed in the dense jungles of Tripura during World War II, after a monthlong search.An Assam Rifles release issued late last evening stated that officers and jawans of 34 Battalion of Assam Rifles had recently discovered the crash site and the propeller of the plane in Birmonipara area after more than a monthlong search in December 2011 and January 2012.The release said the American plane (C-47-B) had taken off from Rangoon airport in Burma (now Myanmar) with 11 "war criminals" and some other passengers for Calcutta on May 17, 1946 but had crashed in the dense jungles near Birmonipara village under Gandacherra subdivision in Dhalai district of Tripura. All the passengers and crew had died. The bodies were buried and a cemetery was built in the area.Sources said the cemetery was located near Birmonipara village and the crash site and the propeller were found within 3km of the cemetery.Throwing light on some events related to the crash, police sources said an American passenger David Campbell had succumbed to his injuries a few days after the crash. His younger brother Tony Campbell, who came to know of the crash and his brother's death from American army records and the Internet, had come to Tripura in the mid-nineties when insurgency was at its height in the state"He wanted to visit the spot but was prevented from doing so by the police on the ground that the place was a hotbed of militancy and he might be kidnapped or killed," a senior police officer said.Tony Campbell returned to the US and took up the issue with his government, which then drew the attention of the Indian government to the matter. But there was no further progress in the matter though the cemetery remained in place, the officer added.Police sources said the area falls under the jurisdiction of Assam Rifles and its jawans posted there might have come across the cemetery. Thereafter, they could have launched a search in the nearby areas, leading to the discovery of the site and the propeller.In January 2004, Kartik Roy, a farmer of Krishnapur village under Gandacherra subdivision, had discovered pieces of wreckage of another American plane, Schrader USA, AN-b/2-1, while digging the land behind his house. Village elders had said three British passengers had managed to survive the crash with slight injuries and had been escorted by villagers to the sub-divisional town of Amarpur from where they had reached Agartala and returned home. The exact date of the crash was never known but veteran officials of the state administration said it could not be later than 1947. They also said that in 1941, when World War II was in full swing, British authorities had built three small airports in Agartala, Kamalpur and Kailasahar.In another incident, a Pakistani Viscount plane flying from Karachi to Dhaka via Sylhet had landed at Agartala airport briefly in April 1953. When it resumed its journey towards Sylhet, the aircraft was caught in a storm and despite frantic efforts to land in Kamalpur or Kailasahar airports, it crashed in the dense jungles of Dhalai district. Altogether 34 passengers died on the spot. A woman passenger died a day later but not before disclosing to an indigenous cultivator of Dhoomacherra village, Kartik Debbarma, that the plane had been carrying a large quantity of gold. Kartik launched a frantic search alone in the jungle and recovered a large quantity of gold but never disclosed its location to anyone. But as fate would have it, Kartik lost the entire amount of money he had obtained by selling the gold in gambling and drinking and died within two years. Local people still believe that a large quantity of gold and the wreckage of the Viscount.
8
The Short Stirling

Story
--- The Stirling was the first four-engined British heavy bomber of the Second World War. The Stirling was designed and built by Short Brothers to an Air Ministry specification from 1936, and entered service in 1941. The Stirling had a relatively brief operational career as a bomber, being relegated to second line duties from 1943 onwards when other four-engined RAF bombers, specifically the Handley Page Halifax and Avro Lancaster, took over its role.
--click on circle above!!!
"Glory is the reward of Valour."


Messerschmitt 109 Poses Before the
British Short Stirling Bomber It Brought Down.

''Flak Magnet'' !!!That's a good one!!!
-------
Use the filters on the left hand side of this screen to search our records.
It is possible to search by surname, date, war, rank, regiment, unit, ship, squadron, awards or any combination of those criteria.
Search results can be sorted by column heading, printed and clicked on for access to more information.
1 record(s) matches my search criteria
Cherry Pink & Apple Blossom White
......